About Audrina
Audrina Jones Bunton, M.A.
Founder/CEO of The Peaceful Place, Inc.
Durham, North Carolina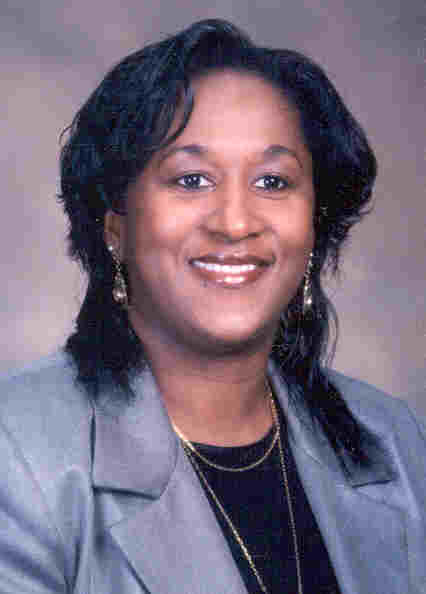 Eloquent Speaker: She speaks -- we listen.
Compassionate Counselor: We speak -- she listens.
Devoted Youth Director: We speak -- she listens; she speaks -- we listen.
Notable Retreat Facilitator: God speaks -- we all listen.

Founder and CEO of The Peaceful Place, Inc., a non-profit ministry organization, Audrina J. Bunton's mission is to motivate through speaking, to encourage through counseling, and to enlighten through retreat facilitation. With a B.A. in Sociology from the University of North Carolina-Chapel Hill, and a M.A. in Biblical Counseling, Audrina is an IABC Certified Biblical Counselor and is currently pursuing a doctorate as a Licensed Clinical Pastoral Counselor. She is a Competent Toastmaster of Toastmasters International.
A five-time best speaker with Toastmasters International, Audrina's no-nonsense messages, captivate, motivate and encourage listeners of all ages, as she utters words that tug at the heart and produce creative thought and action toward a purposeful life.
As a gifted and compassionate counselor, Audrina has been effectively counseling since her youth, and formal education and training has provided her with over 10 years experience in youth, crisis, and family counseling. Audrina now serves as the Christian Counselor at the Come
As You Are Evangelistic Center in Aberdeen, North Carolina where her mother, Lydia Jones is the pastor.
As a Devoted Youth Director for the past 14 years, Audrina's deep understanding of the issues facing adolescents has won the hearts of young people worldwide, welcoming adolescents to candidly communicate and receive counsel about the issues that they face.
As a Retreat Facilitator, Audrina's 15 years experience as a conference facilitator, speaker, and counselor provides the necessary ingredients for individual enlightenment and cohesive group dynamics in an atmosphere that integrates tranquility, direction in prayer, strengthening of the bond within the family unit, and time to re-focus and connect with God.
Audrina is an accomplished writer and has authored numerous articles on purposeful living. Audrina's professional affiliations include the American Association of Christian Counselors; International Association of Biblical Counselors Certification; National Christian Counselors Association; and Toastmasters International.
Audrina resides in Durham, North Carolina and is married to a wonderful husband, and is mother to a beautiful daughter and lovely son.
---
Board of Directors
Pastor Arvetra Jones, Jr., President
Co-Pastor, Come As You Are Evangelistic Center, Aberdeen, North Carolina
President, North Carolina Gospel Announcer's Guild
General Manager, Affordable Charter Company, Fayetteville, NC
Radio Announcer, Fayetteville State University
Toni Davis, Secretary
Youth Ministry Director
At Risk Teen Mentor
Program Coordinator
BA, Sociology
Lydia P. Baker, Treasurer
Gang Outreach
Juvenile Court Counselor
BS, Family and Consumer Sciences
Nishaun T. Battle, Member
Juvenile Court Counselor Intern
Group Home Worker/Assistant High School Teacher
Mentor / Program Coordinator
MS Candidate, Criminal Justice
BA, Communications/Public Relations / BA, Afro-Ethnic Studies
Frazier Benjamin Beatty, Member
Community Health/Faith-Based Health Education
Nonprofit /Governmental Program Management
Ph.D., ABD, Health Education (expected)
MA, Public Health, Community Health BA, English/Education